25th January 2017 | Digital Marketing
SEO Myths Debunked
In December, I was featured as one of the guest speakers for InCumbria Google Garage at Furness College in Barrow-In-Furness. This was a great opportunity for me to share the SEO knowledge we have here at SQ Digital with local businesses, many of whom were new to digital marketing and looking to get further insight into the types of channels we utilise as part of a campaign strategy.
As Google Premier Partners, we love to work with Google and make the most of being able to work with local businesses to help them get the most out of what SEO and digital marketing should offer. The talk I gave was based around the myths of SEO, which many professionals involved in marketing will come across at some stage.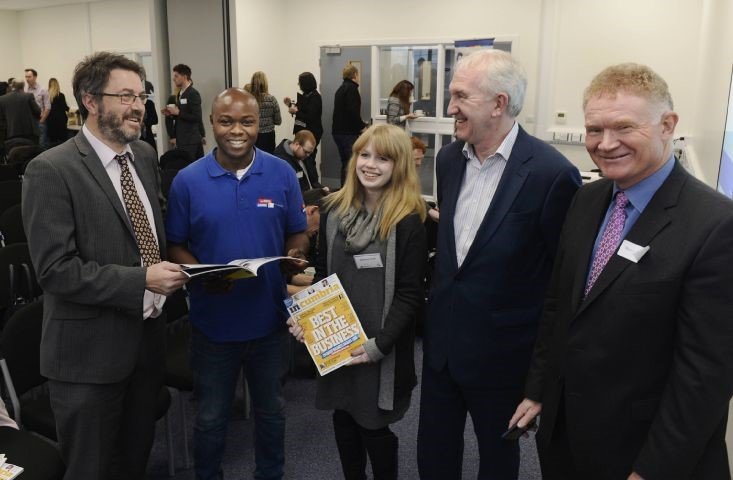 Our Beth Cook (centre) presented at InCumbria Google Garage at Furness College in Barrow-In-Furness last December
We were very pleased about how well the talk was received, and that's why we'd like to share this valuable information with you so you don't get caught out by the many SEO myths buzzing around the internet.
SEO in 2017 – legitimate, organic, 'white hat' SEO – is about so much more than the black hat tactics of old.
Google Doesn't Like SEO
One of the biggest rumours people seem to hear about SEO is that Google isn't too keen on it. Looking at the journey that SEO and Google have been on over the years – from the black hat days to the hundreds of algorithm updates Google have released – you can't be blamed for thinking that Google was trying to kill off SEO for good.
In reality, that couldn't be further from the truth.
Google have highlighted themselves the benefits of hiring an SEO professional, including:
Offering technical advice on your website
Ensuring website health and performance
Conducting thorough keyword research
Expertise in more specific, technical or advanced areas
So long as your website and SEO strategy follows the Google Webmaster Guidelines, Google has absolutely no problem whatsoever with SEO. In fact, they recommend it.
Google's ranking philosophy is based around offering a positive user-friendly experience, and so long as you approach it with this in mind, this is certainly something that an SEO strategy based on site health and campaign longevity can offer.
SEO is Just About Tricks
Perhaps in the mid-noughties, but not anymore. Trust me, if SEO was just about tricking search engines, our job would be far easier. SEO is complex and intricate; campaigns need to be considered and carried out carefully to ensure positive progress with a primary focus on longevity.
In the SEO industry, the word 'tricks' is more associated with manipulative SEO techniques that that go against Webmaster Guidelines – commonly referred to as 'black hat' SEO. However, SEO in 2017 – legitimate, organic, 'white hat' SEO – is about so much more than that.
Centred on user-experience and steady ranking growth, SEO involves so many kinds of techniques, including but not limited to:
Careful, natural optimisation of pages through title tags, header tags and meta data
Creating high quality, optimised site content that is written with users in mind
Using a natural link building strategy that isn't focused on 'quick wins'
Ensuring site health with SEO tools and Google Search Console
Targeting the right keywords that will attract good levels of relevant traffic to your website
These are just some of the many tools that need to be utilised as part of a modern SEO campaign; a campaign that is demanding, consistent and prioritises your website users.
You Need X Number of Keywords on a Page to Rank
This is something we in the SQ Digital SEO department see all the time, and it's a myth that never seems to let up in our industry (unfortunately).
There is no 'golden ratio' for keyword instances on a page when it comes to ranking well. As well as the fact that there are countless other ranking factors besides keyword mentions and density, trying to fill your content with as many mentions as possible of your target keyword simply doesn't work (and can even result in a penalty from Google).
'Keyword stuffing' – the name given to the practice of cramming keywords anywhere they will go, such as in title tags and onsite content – is strongly discouraged by Google and SEO industry professionals including ourselves. Although it may have worked in the past, it certainly is not something that works now, and we'd recommend staying well away from it!
Google's Webmaster Guidelines are clear – when optimising or writing content for your website, users should be the priority. That doesn't mean that we can disregard search engines entirely and expect to still rank highly, but in terms of keyword mentions, it is important to have a broader view of what makes a page relevant, useful and therefore likely to rank well in organic search results.
Myths = Debunked
There are many more myths about SEO out there, and with many conflicting opinions and a long and varied history, it can be hard to know which direction to go in with your SEO campaign.
SQ Digital are one of the longest running digital marketing agencies in the UK, and our experience allows us to separate the myths from the facts, working to build a campaign strategy that benefits your business in the long term. For more information on our SEO service, contact us today by calling 01524 580777 or filling in our online contact form.