25th August 2017 | Company Culture
My Time as An Intern at SQ Digital
If I were to describe my time at SQ Digital, I would honestly say that it has been an amazing and worthwhile experience. The amount of responsibility I have been given since the beginning has been great, and the fact that the company have had so much trust in my ability has not only given me a lot of confidence in my work, but it has also built on and improved my own self-confidence.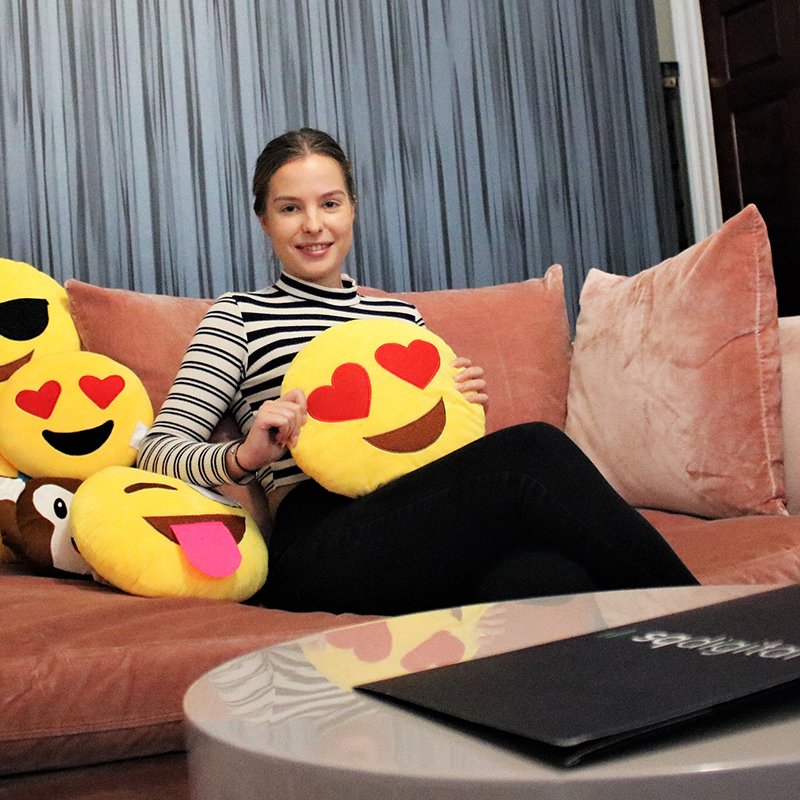 After completing two years at Newcastle University studying Marketing and Management, I knew it was time to gain some real business experience. I initially started applying and attending assessment days for companies located in London, with the idea of finding a yearlong placement. However, due to the massive amount of competition, they proved extremely hard to find, so I decided to change my search to focus on finding summer work experience instead.
Living in Lancaster, I decided to send my CV to local companies. SQ Digital replied to me within a day, offering two weeks of work experience; I think it was meant to be! I soon realised that the opportunity of work experience during the summer would actually benefit me far more than taking a year out of university for a placement.
I couldn't have wished to work for a more friendly and dedicated team.
My University Experience
My studies at university mainly focus around business management with marketing theory and practice. Whilst this allows me to build up an extensive knowledge of marketing, it doesn't provide the opportunity to gain practical and real-world experience.
In my first year, I took compulsory modules such as Quantitative Methods for Business Management and Introduction to Management and Organisation, both of which were heavily maths and theory based. One of my favourite modules from my first year was Critical Perspectives on Business Growth, which I enjoyed attending lectures on fascinating topics such as 'Are Entrepreneurs Born or Made?', 'Illegitimate Businesses' and 'The Mafia and Business Growth'. Every single time I left these lectures, I felt like I had learned something new, but also left me wanting to research more.
In my second year, I purposely chose modules that were more marketing based to ease away from theory and learn more about contemporary marketing case studies and strategies. I started to choose topics that were of interest to me when completing my assessments, which helped to increase my productivity as I actually enjoyed what I was researching. I completed a group report on how social media is affecting different age groups, I wrote an essay on Stormzy's billboard marketing campaign, and I wrote a strategic marketing plan for the online fashion company Missguided.
Whilst university had already made me hopeful for my future career, I knew my time at SQ Digital would help me understand what I was really passionate about.
Interning at SQ Digital
When I first started my work experience in early July for SQ Digital, I admit that I started with minimal expectations, just knowing I wanted to gain experience in both social media marketing and digital PR services. But by the end of my first week I felt comfortable in the easy-going work environment and well adapted to the company. I tried my hand at writing blogs, learning how to match my writing style to the tone of voice of a company. I also got to write social media posts for various clients, and even wrote a couple of outreach articles and press releases. In such a short space of time SQ Digital enabled me to understand the workings of a digital marketing agency and really become part of the team.
At the end of my two weeks of work experience I was offered an internship for the rest of summer before I had to go back to university. This was a perfect opportunity for myself and something I had been looking for during the majority of my second year at university – good things do come to those who wait! Staying on at SQ Digital has allowed me to develop my digital marketing experience and skills while producing some work that I am very proud of. Working in a business environment as opposed to a university environment is very different. At university I'm responsible for myself and my own work, at SQ Digital I'm responsible for the company's work and maintaining their reputation. This is challenging but very rewarding!
The internship has opened my eyes into the wide range of companies that exist and the work that is carried out on a day to day basis to ensure a company's brand image is portrayed correctly. Writing blogs has improved my creativity, and social media has helped me create innovative posts to gain a unique competitive advantage over other brands. A highlight of my time so far is having two outreach articles published online; something I hadn't written before but something I really enjoyed.
Meeting the Team
The individuals I have worked with at SQ Digital have all been extremely welcoming, ensuring that I've been getting the most out of my internship throughout my time here. Michelle, the Lead Social and Paid Media Executive, has made time every week for a 1:1 meeting with me to ensure I was happy and that I was getting the most out of my experience. Throughout these 1:1 sessions, she's helped me to perfect my CV, given me tips for writing a cover letter, and helped me to improve upon my weaknesses. This reflects the hard-working nature of the SQ team and their willingness to go above and beyond to help others.
 This was also confirmed to me through their various activities for charity. The team are taking part in Born Survivor, as well as hosting a family fun day to raise money for Unique Kidz & Co, a local charity that they selected to be their charity of the year back in January. This is something which they should be extremely proud of. I couldn't have wished to work for a more friendly and dedicated team.
The Future
Moving forward, my experience from SQ Digital and the confidence I have developed while I've been here, will aid me in my final year, completing my dissertation, and in my future career. As well as gaining business experience for a digital marketing company, I have also perfected personal skills such as time management, public speaking, and have even been inspired to start my own blog. SQ Digital have confirmed my passion for digital marketing, in which I now know that it is the right career path for me. It has only fuelled my ambition to work hard and excel in my future career.
Thank you so much to the SQ team – I hope you've enjoyed having me as much as I've enjoyed being here.
Want to work here at SQ Digital? Take a look at our careers page to see our latest vacancies.