Creating The Perfect Facebook Advert
Many components make up a successful Facebook advert, like the right objective, relevant targeting, engaging content, and great visual assets. In this blog, we share some elements that discuss what makes a Facebook advert successful, including testing ideas beyond your adverts to drive the best results.
1. Align Your Ad Copy and Visuals
Aligning content and images will benefit your campaign in multiple ways. Firstly, your target audience will feel your advert is personalised to them, increasing their chance of converting or engaging. Secondly, if your target audience is better engaged with your advert, this will positively affect quality ranking, engagement rate ranking, and conversion rate ranking.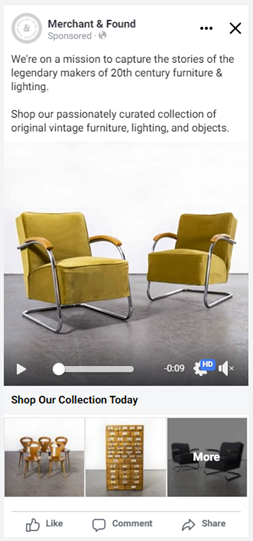 2. Have a Clear Call-To-Action
Your adverts need to have a clear goal. Your CTA button should encourage your target audience, whether you design your adverts to increase brand awareness or drive a specific action like a sale or app install or generate leads.
For example, a conversions campaign should focus on CTAs that lead to revenue like "Shop Now", "Order Now", "Download", and "Sign Up". Whereas a traffic campaign could prompt users to 'Learn More' or 'Subscribe'.
3. Do You Have an Offer to Promote?
Make it clear to users in your target audience why they should click on your adverts or buy your products during your sale period rather than shopping with other advertisers when the competition is heavy.
No matter how long or short your sale is, state how long your sale is running to create urgency. Include a countdown, the percentage off, and how much people can save by shopping with your business. Adding social proof like testimonials can further encourage success for the products or services you're promoting.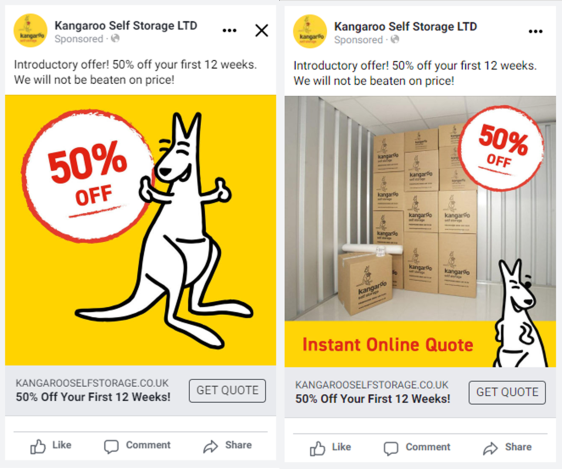 4. Keep Your Advert Consistent With Your Landing Page
Your advert design and landing page should share similarities for a smooth transition from Facebook to your website.
By keeping elements like colours, fonts, logos, characters, and the structure of these elements the same as your landing page, users will feel like your landing page is an extension of your Facebook advert. The content in your advert should also match up, including CTAs, offers, prices, etc.
This continuity means you can avoid high bounce rates and achieve your overall objective better.
5. Consider Designing Ads for Mobile
According to Ad Espresso, in 2020, 79% of Facebook users accessed the platform via their mobile, highlighting it's essential to think mobile-first.
Consider designing images or videos for vertical placements, so it's a full phone screen experience for your target audience. As a best practice, adverts should be created and optimised for each placement but on a lesser scale, consider prioritising mobile-first creatives then desktop.
6. How Relevant is Your Advert?
Now we've covered advert elements and landing pages, consider how relevant your text and images are to your target audience. If your adverts don't resonate with users, they will likely keep scrolling through their feed and not engage.
For example, suppose you are running a dynamic retargeting campaign on Facebook. In that case, your adverts will automatically show the most relevant products to your audience based on user behaviour, acknowledge that you know the user has visited your website and not yet taken the desired action.
For instance, a retargeting campaign that serves adverts to people who have added to their cart but not purchased. In this scenario, consider headlines like:
"Eyeing up something special?"
"Haven't decided? Here's 5% off your order!"
"Still looking? Treat yourself!"
Whereas if you are running a prospecting campaign for an audience who hasn't visited your website, the language you use will be very different. People in this audience will need to find out more about your business, service or products and be provided with a 'hook' before you can introduce specific retargeting phrases.
7. Test Everything
Carrying out continual testing is the only method of building the 'perfect' advert. Essentially you are trying to determine key information about your audience to deliver results.
You can easily categorise the elements of an advert to test and use the Facebook A/B testing tool. Without testing, it's not possible to determine which adverts will give you better results.
Text
Image
Headline
Call-To-Action
Once you have established a method of testing and gathering data for your advert elements, you can also try testing other parts of your overall campaign.
Campaign structure:
Objective
Advert Placement
Advert Format
Landing Pages
Audience targeting:
Age
Gender
Custom Audiences
Interests
Behaviours
Create Perfect Facebook Ads with the Help of SQ Digital
Our tips can help you create the foundation for the perfect advert, so you can build upon this to find the best formula for your business.
Successful Facebook adverts also require considerations around targeting, audiences, objectives etc., that feed into your overall advertising strategy, which is why we've highlighted the importance of testing to drive results.
If you feel like you need further assistance to perfect your paid social media adverts, please do not hesitate to get in touch with our expert digital marketing team at SQ Digital. We have over 20 years of experience in digital marketing, and we are happy to hear from all businesses looking to improve their online presence.