Why is it Important to Optimise Old Content?
Google and other search engines prefer content that's relevant to what the user is searching for while also being informative. The search engine values user experience above all else and prefers sites that are updated regularly. Authority is also a key factor, and a good way to build this authority is to optimise your content to keep it relevant.
Tending to your old content is an efficient way to improve organic traffic and boost its chances of ranking higher in SERPs (Search Engine Results Pages).
As a digital marketing agency in Lancashire with over two decades of experience, we know just how important it is to have fresh content on your website – but continually creating new content from scratch is time-consuming. Optimising your old content can have a huge impact for less effort.
Boost Your Rankings
Since 2011, Google has been using the 'Freshness algorithm' which is designed to give users the most recent and up-to-date content. Think about the last time you Googled something; the top results are typically from the same or past year. For example, if you Google 'how to plant a tree', you can see dates for 2019 and 2020 at the top of the search results.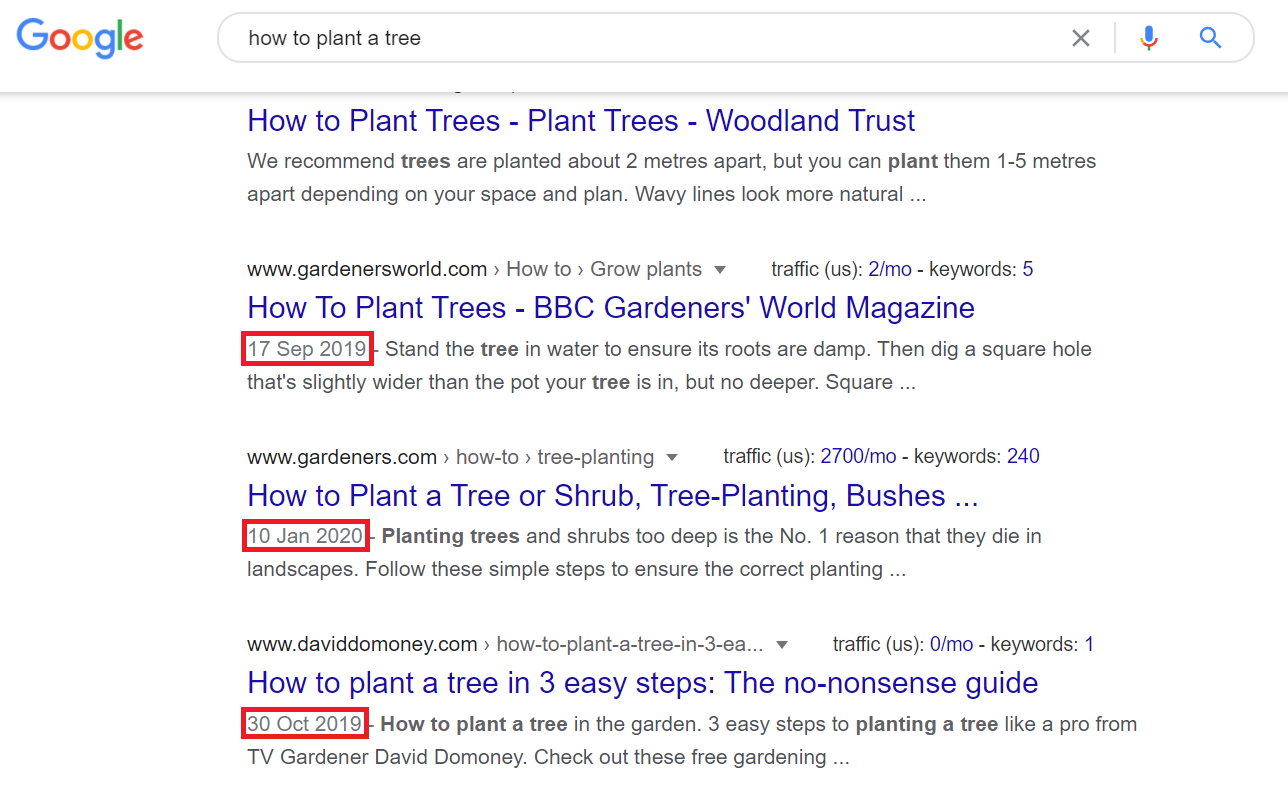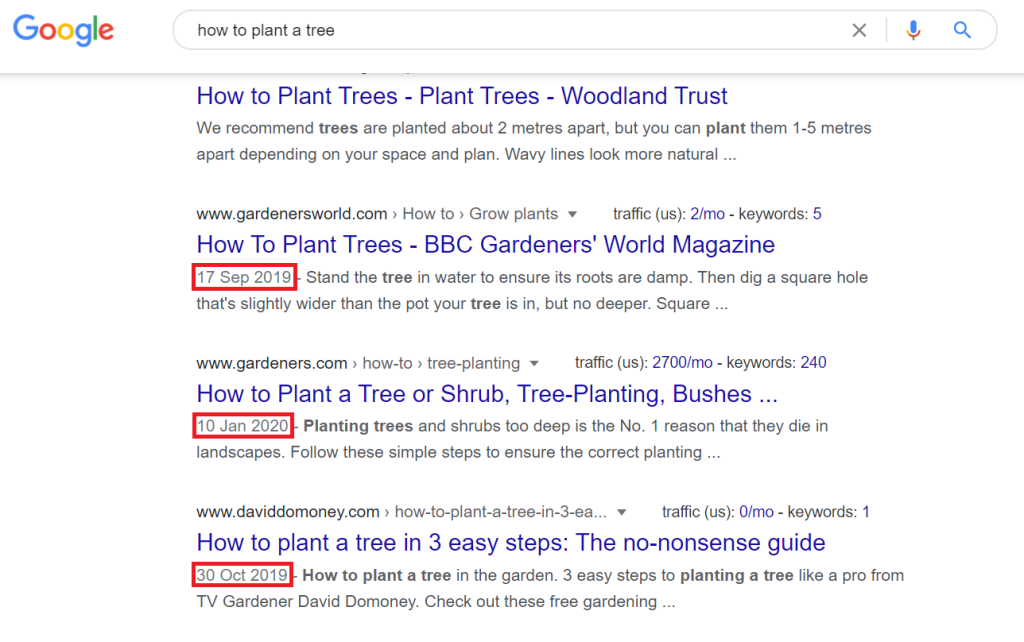 Some keywords will benefit more from fresh content, like those referring to current events, product updates and trending topics. Monitoring search volume and mentions on social media can also help you to understand which content you should update based on the most popular trends.
Because people are usually searching for the most up to date information, not blogs that were published years ago, keeping content fresh and up to date can help to take it to the top of SERPs – and draw eyes (and traffic) to your site.
Improve the Accuracy of Your Content
Another reason why you should update your old content is to check its relevancy and improve its accuracy. As we've established, search engines favour useful and relevant information, which means they want accurate information too.
Accuracy leads to trust, and trust is vital for Google. If people lose trust in the information you're offering, Google will notice the reduction in traffic and you'll quickly drop down the rankings.
Imagine you want to visit a store in your area. You want to know when the store closes so you can be sure to get there in time. Google tells you it closes at 5pm. You get there at 4pm and the shop is already closed for the day. Understandably, you won't be happy.
Also, you may even stop trusting what Google tells you if it keeps happening. It's a no-brainer; if a search engine repeatedly gets information wrong, people will stop using it – so it's in everyone's best interest to get it right and keep it fresh.
If you'd like to learn more about content marketing and how it can help draw traffic to your site, talk to us. As a content marketing agency specialising in all things content, we'll create valuable, engaging and accurate content for your audience.
Check for Broken Internal Links
How frustrating is it to see this when searching for information?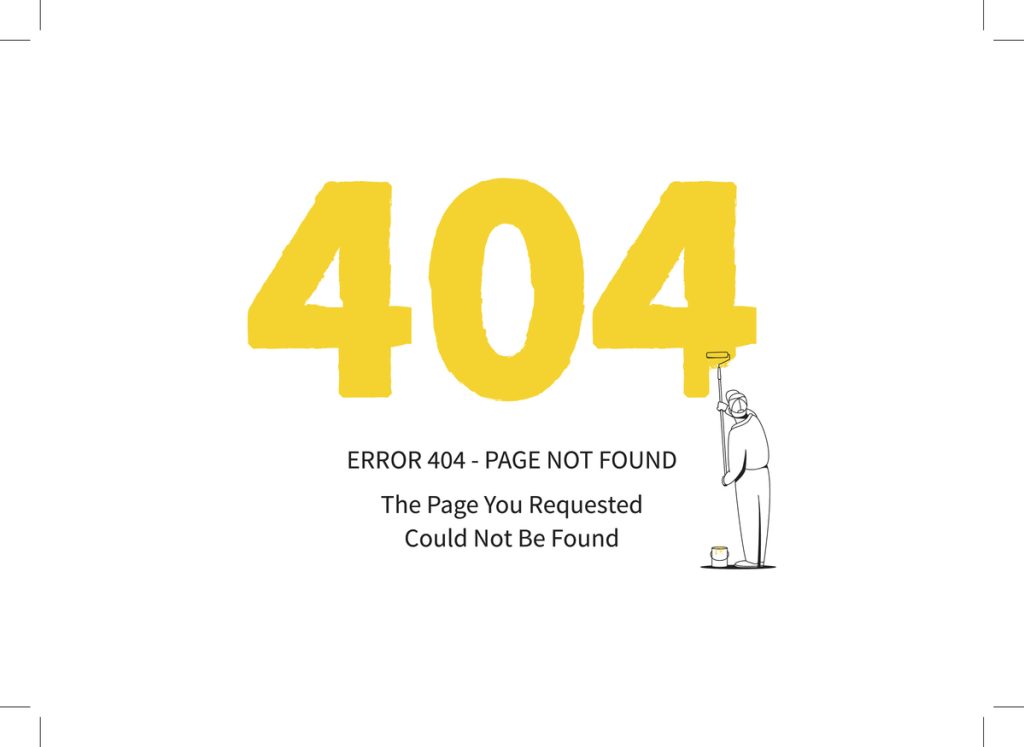 When people click on a link, they expect to be taken to a page where they'll find what they're looking for. A broken link means the user will see a 'page not found' message instead of the destination page. Broken links make for a poor experience, so Google tends to penalise your site for it.
Broken links can hurt your SEO.
Make it a priority to optimise your content by fixing them. To do this, you should periodically check for 404 errors, which usually occur when your content was removed or relocated without adding a redirect.
A site crawler does it automatically for you, but you'll still need to add the redirects yourself. Alternatively, ask an SEO agency, such as SQ Digital, to do it for you; we can correct any issues you're having and carry on fixing them as they crop up over time.
And while we're on the subject of links, think about your existing content when you're publishing new pages. Can you link to other relevant pages to help visitors find what they're looking for? You can take this a step further too, by periodically checking your old content to look for opportunities to link to newer pages. If you have an older page that performs well, can it be linked to newer, relevant content?
All of these small things add up to increase your overall domain authority.
Promote Your Content to Other Sites or Social Media
Optimising your content allows you to prepare it for publication on other websites or social media. This might involve using a short, catchy headline so people can digest it quickly while scrolling, or making sure the image you use is eye-catching and appropriate for the platform you intend to share it on.
If you're intending on sharing a post via a social media channel, like Facebook, you should always tailor your post to that particular platform if you want to make the most of your content and engage your audience. A Facebook post will not achieve the same success if published on Twitter, Instagram or LinkedIn as is. Your content must meet the platform's guidelines and its users' expectations.
When we published the 'How Do You Know Your Website is Performing Well?' article on SQ Digital's site, we also shared it on our social media accounts, including Facebook and Twitter. You can see below how the posts differ from one another, as we made sure to optimise the content for each platform (on Twitter, posts should have hashtags, while this isn't the case for Facebook, for example).
Facebook: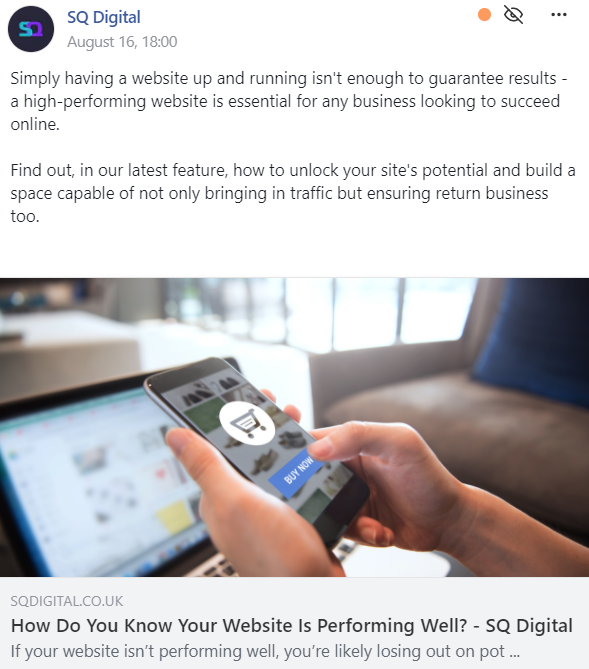 Twitter: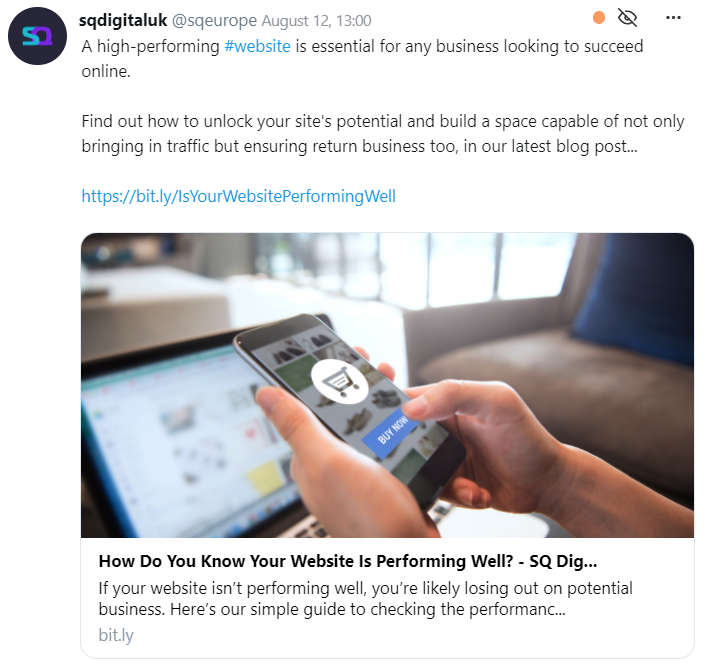 Sometimes, the changes you should make are minimal. Other times, you have to repackage your content into something like a listicle or a 'best of' post. And if you use infographics, it can be a great time saver to create these with the intention of chopping them up to share smaller visuals via your social channels – it's a great way to repurpose existing content and get more value from it.
Boost Domain Authority
Increasing the domain authority of your site can take a while, but every little thing counts, including optimising your content. While you may think that refreshing your content won't have much impact, it does change the way search engines view your site.
Domain authority, a metric created by Moz, refers to a score that predicts how a website will rank on SERPs. Each site has a score of 1 to 100 and higher numbers mean the site is likely to rank higher.
By re-evaluating your content to ensure the quality remains high, it's authoritative and offers value to your audience, you can slowly build the domain authority of your site. You should remove duplicate content, update older blogs with new information and add keywords that are relevant to your site and brand.
And, if your content is useful to people, they will link to it from their own websites and social media platforms, which further boosts your domain authority.
How is Google Looking at the Freshness of Your Content?
So, we've determined that Google likes fresh, optimised content. But what exactly is the search engine looking for? How can you be sure you're making the right changes to your content?
Google looks at specific things, including the following:
When the content was published/indexed (the more recent, the better)
The number of changes made to the content
If you changed important areas of the page (like the main copy)
How often the content is refreshed
How many new pages you add to your site (and at what rate – sites that update more frequently are likely to have a higher freshness score)
Good level of traffic and engagement
If you keep these elements in mind when reviewing old content, not only will the quality of your content improve, but you'll increase the chances of moving up those all-important rankings.
If you're unsure how to go about all this, simply get in touch with SQ Digital. We have over 20 years of experience providing digital marketing services and can help you make the most of your content and website.