5 Ways to Improve Your Social Media Presence
With around 3.6 billion people using social media in 2020, which is expected to rise to 4.41 billion by 2025, social media has become an integral part of any successful marketing campaign. A social media presence allows you to connect with your audience and strengthen your brand, not to mention it can help you build trust among your customers.
As a social media agency, we know just how important it is for you to reach the right people, but where do you even start?
Check out our tips on boosting your social media presence and take advantage of the benefits it offers.
1. Facebook – Streamline Your Tabs Section
Facebook still has the largest number of users, with over 2.6 billion monthly active users worldwide, which is why small or large businesses shouldn't ignore this platform's potential for increased visibility and brand awareness.
One way to improve your presence on Facebook is to optimise the tabs section to fit in with your brand. Your tabs are part of your Facebook page's prime real estate, so don't underestimate their importance.
Think about the tabs you use and don't use and get rid of anything redundant. While you may have needed a certain tab in the past, e.g. Videos, if you're not using it anymore, take the opportunity to declutter the page by removing it entirely.
Instead, take advantage of those you haven't used yet. For instance, if you're hiring personnel, what better way to attract attention to postings than by including the Jobs tab on your page? And, if you sell products, you should consider the Shop tab.
In short, streamlining the tabs section on your Facebook page can help you to draw attention to what really matters to your brand and your audience.

2. Twitter – Get Involved in the Conversation
To make the most of Twitter, getting involved in the conversation is a great start. Use the search bar to find niche terms or discussions that you should be a part of, and check out industry-specific hashtags too. If your business is all about interior design, you don't want to miss out hashtags like #InteriorDesign and #HomeDecor.
Take a look at what's trending and see if anything catches your eye. Get involved in threads that have large numbers of commenters. By chatting and commenting on anything that would interest your target audience, you raise your chances of being noticed by them.
Keep in mind that Twitter, like other social platforms, isn't just a numbers game. Focusing all your efforts on getting followers without paying attention to the quality of those follows won't help you grow your brand.
WHO's following you is more important – you want people who are engaged and interested in what you have to say, who contribute to the conversation, and who share your posts with others.
3. Instagram – Reconsider Your Hashtag Strategy
It's one thing to find hashtags and use them, but are you engaging in them? Hashtags are important to promote your Instagram page, so spend some time deciding on which ones you should use to get the most value out of them.
For example, if you sell clothes, you have many hashtags at your disposal, such as #fashion, #OutfitOfTheDay, #ClothesForSale and #StreetWear. However, if you only sell women's clothing, #MensFashion isn't that relevant to you.
People engage with hashtags, so part of your strategy can include:
Creating branded hashtags
Encouraging followers to use your hashtags
Jumping on topics that are trending
Finding out the most popular hashtags in your industry and using them in your posts
One of our latest posts on Instagram is all about SQ Digital's 20th anniversary and the work we do for our clients, so we've made sure to highlight hashtags like #DigitalMarketing, #SEO and #WebsiteDesign.
View this post on Instagram
4. Pinterest – Create Niche Boards
Pinterest is a brilliant platform that allows you to promote your products and services – and attract attention to your brand – in a visually interesting way. This gives you plenty of opportunities to tell everyone what you do, which is why you should have a brand board where you save your own pins and showcase your brand.
Creating niche boards is another way to grow your traffic. They help show off your brand, helping your audience understand what your business is all about.
A small business that offers interior design to its clients could create boards like 'black kitchen ideas', 'tiled kitchen ideas' and 'botanical interiors'.
5. LinkedIn – Keep Your Headline Up to Date
LinkedIn helps connect businesses and people, so this platform is great to forge professional relationships and raise your brand awareness. Your company's headline is the perfect place to show your target audience what you're all about.
Keep your headline current by not only adding up-to-date information but also including keywords relevant to your brand and speciality. Let people know you can design great modern kitchens or offer superb banking services to your clients.
Selling your brand is vital, so review your headline often to ensure it's always relevant to your business and what you do.
SQ Digital's LinkedIn headline, for example, says everything about us!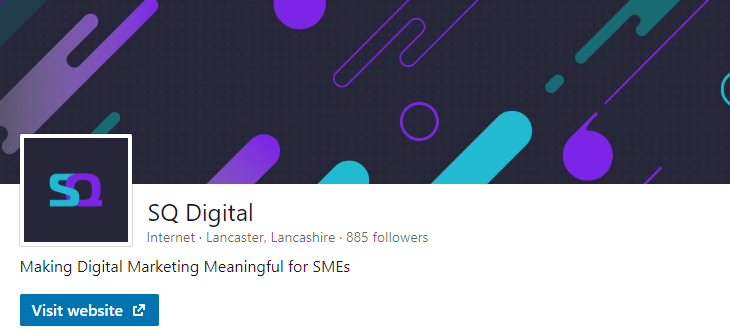 Social media is an essential part of digital marketing and should be considered when a business is developing a strategy. As a small or larger business, it's important that you make the most of your social accounts and, at SQ Digital, we're more than happy to help with that.
Established in 2000 in Lancashire, we're a digital marketing agency helping many SMEs grow their business over the years. Get in touch with us today to chat about how we can help your social media strategy.