How to Increase the Domain Authority of Your Website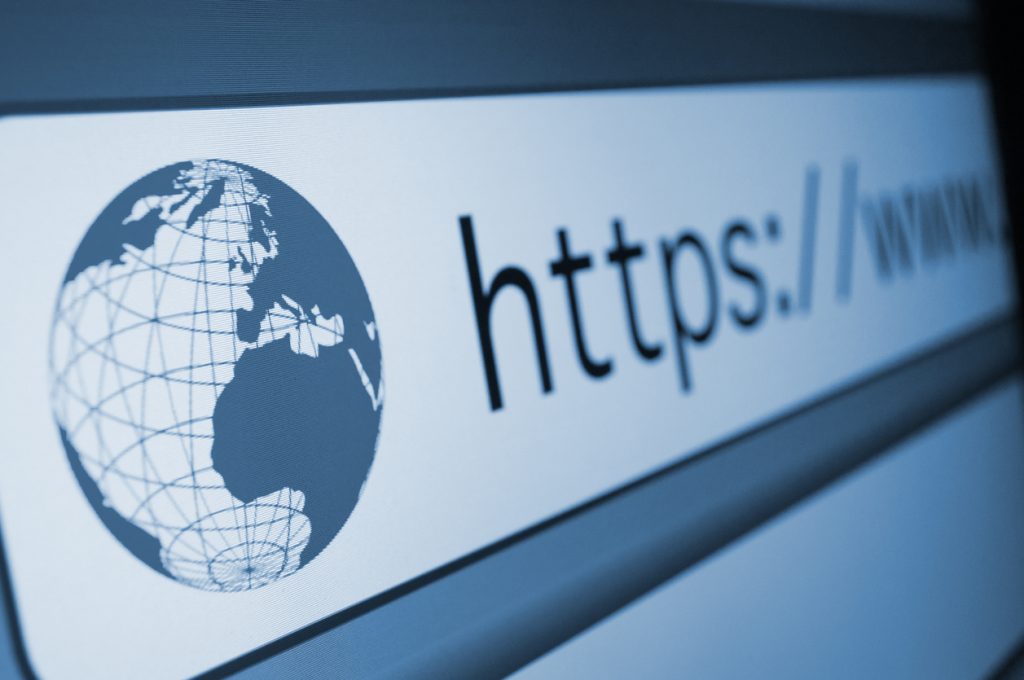 Marketers and website owners put a lot of stock into getting to the #1 position on search engine results pages (SERPs), and with good reason. While ranking on the first page of Google is already a big accomplishment, getting to that sought-after number one spot can increase your CTR (click-through rate) by 200% when compared to position two. But reaching #1 isn't easy, not when everyone's competing for the same position. Ranking for certain keywords and getting good backlinks is a great start, but these aren't the only elements to consider. It's also important to look at domain authority.
What is 'Domain Authority'?
A website's domain authority (DA) is a crucial metric that predicts how well that site will rank in SERPs, as well as the likelihood of it receiving more (and better) traffic.
Developed by Moz, this metric is scored from 1 to 100, with 100 being the best – the lower your DA score, the less traffic and ranking your site receives.
But because sites like Wikipedia have a lot of high-quality external links, they tend to have a very high DA score – small businesses on the other hand or sites with fewer inbound links tend to have a lower score. This means there's no 'good' or 'bad' score. It's virtually impossible to compete with sites like Wikipedia, so this shouldn't be your goal.
Instead, use the DA score as a comparative metric with sites you're competing against. Growing your site's DA can take a while, as it's more of a long-term process, so start today.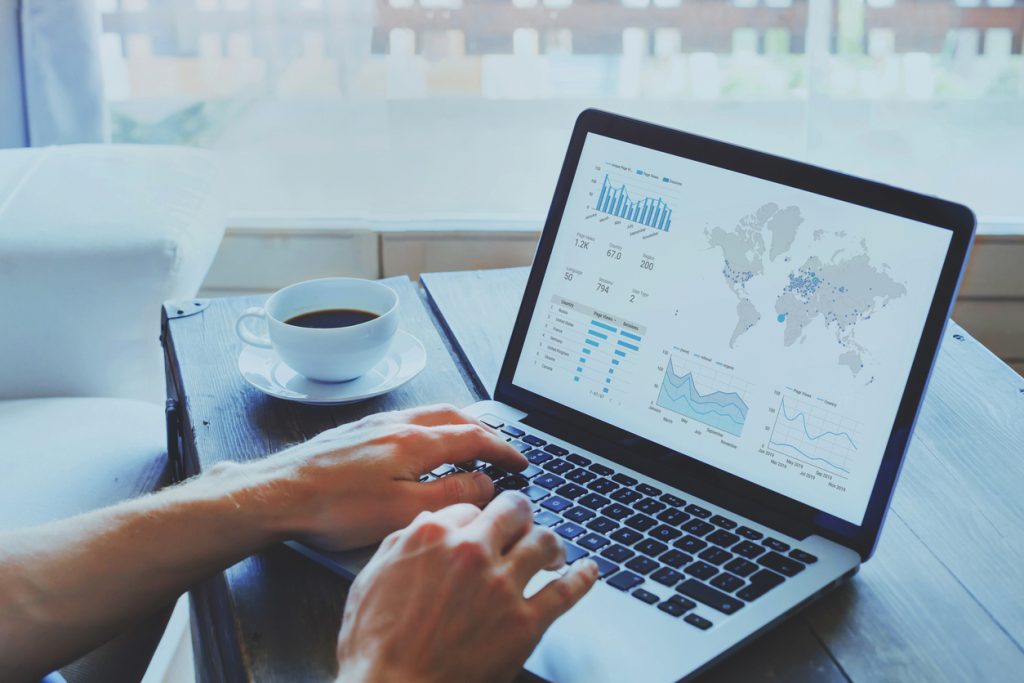 Below, you can find some tips that will help you boost the domain authority of your website:
Tip 1 – Optimise On-Page Content
Optimising your website for on-page SEO is an essential step in improving its DA score. There are many things you can do to achieve this.
Optimise titles and descriptions
If your titles and descriptions are optimised (for example, by having the right length and including relevant keywords), they are more likely to help your page or site rank higher in SERPs.
Use subheadings correctly
While subheading structure (H1s > H2s > H3s, etc.) is less crucial than other factors, it streamlines your HTML and helps screen readers to understand the structure of your article. It also makes a blog easier to read, and Google is all about user-friendliness.
Have a proper URL structure
A good URL structure will be specific to a page while referencing the site as a whole. This means having the root domain for your site, followed by the pages and subpages.
For instance, this URL – https://www.sqdigital.co.uk/case-studies/banks-lyon/ – tells you what you'll find if you click the link: a case study about a company called Banks Lyon on SQ Digital's website. Make sure to include your primary keyword for each page as well, which helps with SEO rankings.
Avoid keyword stuffing
This simply means you should avoid adding your primary keywords too much on a page. Some sites do it to try and rank higher for a specific term on SERPs, but Google will punish them for it. It's better to include key terms naturally and wherever relevant.
Add internal links to all content pages and blog posts
Linking to other pages on your site helps SERPs to discover content, boosting your chances of ranking higher. Also, if a page has a lot of links, Google tends to think it's an important page or a relevant post with a lot of value, which will help your SEO as well.
Optimise pictures with alt tags and key terms
Alt attributes or tags help to describe an element in HTML. When you add them, you increase the chance of your images being found on SERPs and ranking for specific keywords. And, because image descriptions help visually impaired visitors, it counts towards the overall user-friendliness of your site.
Have quality content across your website
Writing quality content that is informative, useful and original will help your SEO. It allows you to get more clicks, generate more backlinks, incorporate important keywords, and provide readers with a great user experience.
If you don't know where to start or want to be 100% sure you have it right – let an SEO agency handle your SEO optimisation.
Tip 2 – Improve Your Site Structure
Another factor taken into account when calculating DA is the website structure, which should be simple and easy to use. This helps Google index your content and return the results in SERPs. If your website is well structured, crawlers like Googlebot will find it easy to index your pages and show them on SERPs. But crawlers don't automatically find all pages and content on your site; you need a website that's easy to access and crawl, as this boosts your chances of your pages being indexed.
A good site structure will also allow you to have site links in SERPs.
Sitelinks are a list of links that show up in SERPS and which display your main page and several other internal links. For example, if you search for 'sq digital' on Google, you can see our homepage as well as links to other locations, such as our 'About', 'Careers' and 'Insights' pages: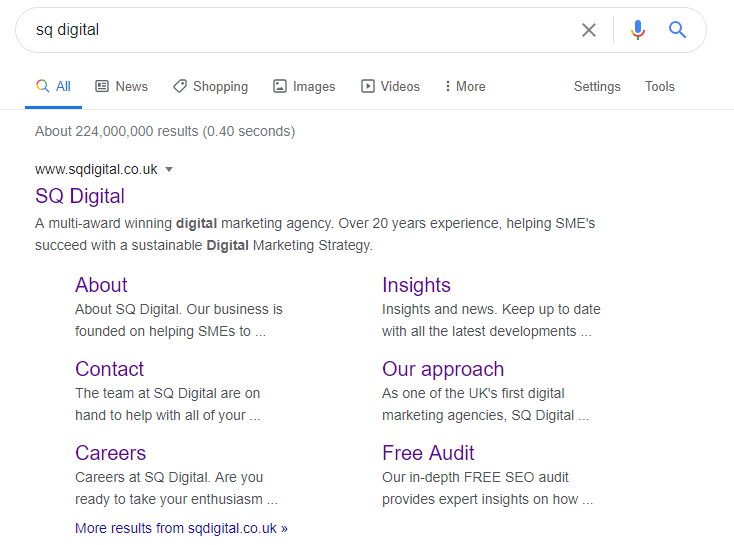 With this in mind, it's fair to say that site links are great for SEO, as they call attention to your pages and improve the navigability of your site. They also help you to increase your click-through rate and boost the reputation of your brand. This will help to improve your DA score as well.
Having a strong internal linking structure is equally important. Internal links allow you to create a network of interconnected pages, which will help crawlers to access every nook and cranny of your site. Linking to other pages within your website also improves user-friendliness, as visitors can easily navigate to other areas of the site which encourages them to stay for longer.
Tip 3 – Get Good Backlinks and Remove Bad Links
One of the most important things when improving a DA score is to have good quality links from high-authority pages and sites. These backlinks carry ranking power that can boost your DA score and help you rank higher in SERPs.
First, conduct a link audit to find information about your backlinks, including whether they're good or bad for the health of your site. Study these backlinks and keep the ones that are relevant and high quality.
If you find backlinks that may actually be harming the performance of your website – for instance, if spammy sites are linking to you – you can request the webmasters of those sites to remove the links. You can also disavow them using Google's Search Console tool; once you do this, Google will ignore those links, which will help your site and assist you in building a better DA score.
There are many ways to get more backlinks, such as:
Conduct a competitor analysis to see where your competitors's links are coming from
Add your website to directories
Write guest blogs
Perform digital PR and outreach by sending articles to local, national or global online publications
Promote your content
When trying to get more links back to your site, make sure that you're not getting a sudden onslaught of them, since Google will find this suspicious.
Link-building is a long-term process, meaning it takes time to build a good backlink profile and you shouldn't try to rush this by buying links. Buying links shows an intent to manipulate rankings, which is against Google's rules and can land your website in trouble.
Tip 4 – Ensure the Site is Mobile-Friendly
Mobiles are used more and more for things like accessing social media, making purchases and managing bank accounts; in the second quarter of 2020, mobiles were responsible for 51.53% of all traffic worldwide.
So, it's not surprising that having mobile-friendly sites can improve your DA score and help you to rank higher in SERPs. If you haven't optimised your site for mobile, now is the time – you can check whether your website is optimised with Google's Mobile-Friendly Test.
A responsive site means each page and font size adjusts to different screens automatically, as you can see from our example: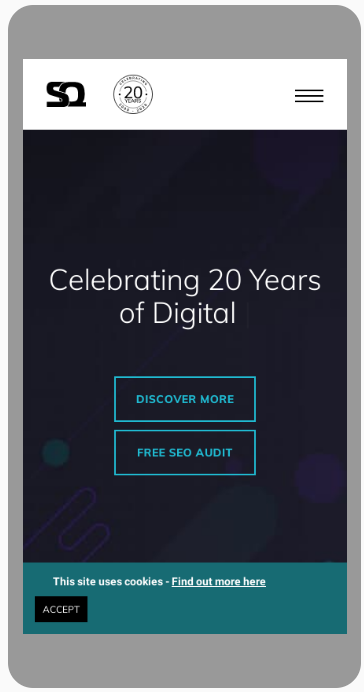 If your site is mobile-friendly, users are more likely to stick around, instead of leaving because the content isn't properly displayed on their phones or tablets.
Tip 5 – Improve Your Pages' Loading Speed
Page speed matters and faster sites have the advantage over slower ones. Improving this speed will improve your website's performance, ensure the user has a better experience and, of course, it will boost your DA.
It can be a challenge to tackle loading speed because there are a lot of technical elements to consider. However, there are also a few smaller things you can do to improve it, including:
Removing plugins you don't really need and which are taking up space and/or affecting the performance of other plugins
Upgrading your CMS (like WordPress) to its latest version
Compressing images or ensuring they aren't too big when you upload them to your site
Reducing redirects
Avoiding hosting videos and using a streaming site instead
As a digital marketing agency in Lancashire, SQ Digital can help your small or large business grow by improving your website's performance. Contact us today for a chat or request a free website SEO audit to see if you're making the most of your site.