How to Grow your Business on Instagram
When used effectively, Instagram can be an invaluable marketing platform, particularly for small businesses that don't have a dedicated marketing team or a significant budget to play with. All you need to get your business up and running on Instagram and start building a loyal fan base is a smartphone with a good quality camera and a little bit of know-how.
You can choose to manage your Instagram business page yourself, have an employee look after it or use a digital marketing agency. In any case, it's important to understand why the platform is so influential and how you can use it to grow your business and reach new customers.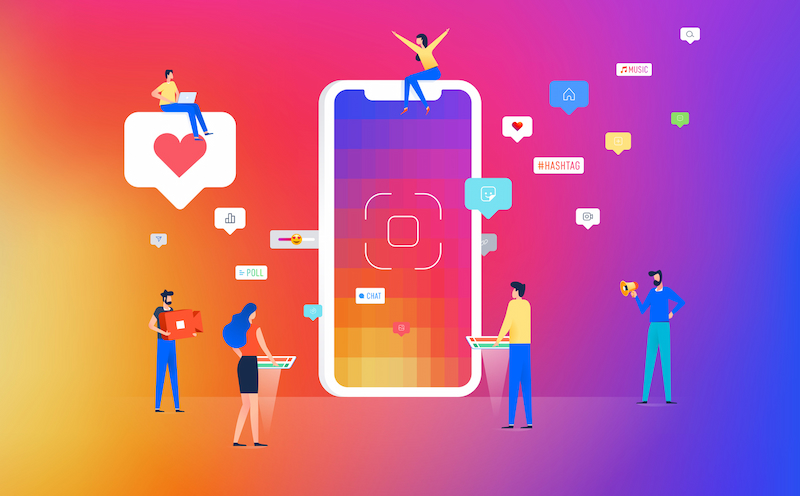 Why is Instagram Good for Small Businesses?
With over 1 billion active monthly users as of 2022, Instagram is on par with Facebook as one of the most effective social media marketing platforms. However, the one thing that sets Instagram apart, aside from being the most visual platform, is that Instagram users are actively interested in connecting with and following brands.
The vast majority of Instagram users follow at least one brand, and over half of those people have purchased a product or service after seeing it on Instagram. Users' willingness to seek out brands that create engaging visual content and the high conversation rate make Instagram a must-have for small businesses looking to grow their brands.
Success on Instagram isn't limited to specific industries either. As long as you're producing engaging content that people want to see, and you know how to optimise your posts to make sure the right people see them, you could be onto a winner.
You can read more about the reasons to use Instagram here.
Is Instagram Right for Your Business?
Before you start investing time into your business's Instagram page, you'll want to research and find if there is a crossover in demographic between your ideal customers and Instagram's userbase. There are a couple of ways to do this:
1. Compare Target Audiences
Different people gravitate toward different social media platforms. Age, income, gender, location, personality types, and personal values influence people's social media preferences, so it's important to pick the platform your target audience frequently uses.
Instagram's largest user age bracket is 25-34 year olds, who, as of 2022, make up 31.5% of the active user base. The millennials are followed closely by 18-24 year olds (30.1% of active users), making nearly two-thirds of Instagram users under 35. The gender slip is almost 50/50, with 49.3% of users identifying as female and 50.7% male.
If your business's target audience overlaps with Instagram's biggest demographics, you're in an excellent position to see success by using the platform for your social media marketing. However, if you have an older customer base (35-44), don't rule out Instagram completely – 16.1% of their users fall into this age bracket, which is still a large audience.
If you're unsure how to use demographics to inform your social media marketing strategy, it may be worth getting advice from a social media agency.
2. Do Some Competitor Research
By taking some time to scope out your competitors on Instagram, you'll be able to find out if the platform works for your industry. For example, suppose you find businesses similar to yours on Instagram and see that they receive engagement. Your target audience is likely to use the platform and look to interact with companies like yours.
If you can't find your competitors on Instagram, or you can find them but see that they're not receiving much engagement, this could be a sign that the platform isn't suitable for your company.
Understanding social media marketing is also knowing when something isn't right for a specific business.
3. Ask Your Customers
One of the quickest ways to figure out if your audience uses Instagram is to ask them. You can send out a survey via your email marketing and ask your existing customer base which social media platforms they prefer.
If Instagram features highly on your customers' list, it will give you the confidence to set up a profile and start posting; even if your competitors aren't utilising the platform – you could be the first!
Developing a Marketing Strategy for Instagram
Once you've decided that Instagram is the right platform for your business, it's time to plan a social media marketing strategy and set some goals of what you want to achieve by investing time into the platform.
Some common goals for businesses using Instagram include:
Growing your audience and engaging with potential new customers
Cultivating brand loyalty and increasing brand awareness
Increasing traffic to the business website
Develop relationships with business partners such as influencers or other brands
Improve product sales
If you're just getting started on Instagram, pick one or two realistic and measurable goals and focus on creating content that helps achieve those goals.
Use Themes to Guide Your Instagram Content
Sticking to your selected set themes for your Instagram will help guide your content and keep your posts on brand and working towards your goals. The type of business you're running will most likely influence the theme you decide to adopt.
For example, an SEO Agency offering services that help people improve their business's online visibility in search engines will focus on informative and educational posts. These post types demonstrate that the company is an expert in its field and willing to share knowledge with its audience. They will also include regular posts that show culture-focused or behind the scenes content that showcases day to day life within the business or how the company is involved in the local community. These informal posts help to humanise the business and build trust with followers.
On the flip side, a business offering a physical product would benefit from posting aspirational content showcasing its products in high-quality photographs. They might structure these around giveaway posts, product demos and new product launches.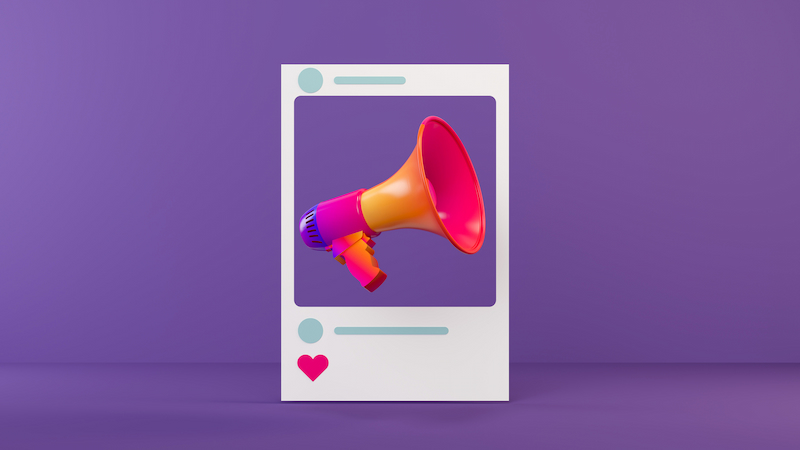 Understanding The Types of Instagram Posts
Once you've set your goals and chosen a theme, you're ready to start posting content to Instagram. There are five different types of Instagram posts to choose from:
1. Standard Instagram Posts – These are typical, evergreen posts that stay on your page unless you manually delete them. They will show up on your follower's feeds.
2. Instagram Stories – Posts that are 15 seconds long and disappear automatically after 24 hours. They are best suited to reactive, informal content.
3. Instagram Reels – Videos up to 60 seconds long, which you can edit within the Instagram app to add music, sound effects, and visual effects, much like TikTok.
4. Instagram Live – Live videos that your followers can interact with in real-time. This type of post will appear in your follower's Stories feed.
5. IGTV – Longer form, pre-recorded videos suited to product demos or short Q&As.
You can use a combination of all or just some of the different types of Instagram posts, whichever works best for your goals, theme and business.
Instagram Business Profile Checklist
There's more to Instagram than just your posts. Make sure your profile is up to date, in line with your business branding and contains all the relevant information potential customers need to know about your business.
Use the following best practices to set yourself up for success:
Use your company logo as your profile picture, so your business is instantly recognisable
Include key information in your bio about your company, such as a brief description of your business
Include a link to your website in the bio. Unlike other social media platforms, you cannot add links to your posts on Instagram, so it's vital to include one in your bio so followers can easily access your website from your profile.
Growing Your Instagram Audience
So, you've got your profile up to scratch, and you're posting relevant content that aligns with your brand and themes. It's now time to start engaging with your followers, which will help build brand awareness and loyalty.
You can build brand awareness and loyalty by following people, liking their posts and starting conversations by responding to comments on your posts. The more you interact with your audience, the more likely they will engage with your brand and convert into paying customers.
Raise awareness that your business has an Instagram account by adding your Instagram handle to the bottom of your emails and other physical or digital marketing material you use. Getting your existing customers to follow you is the first step to building your audience on Instagram.
No matter how tempting, don't be lured into buying Instagram followers. Business growth on Instagram is best done organically by attracting the right people genuinely interested in your brand; they're more than just numbers that will make your metrics look good.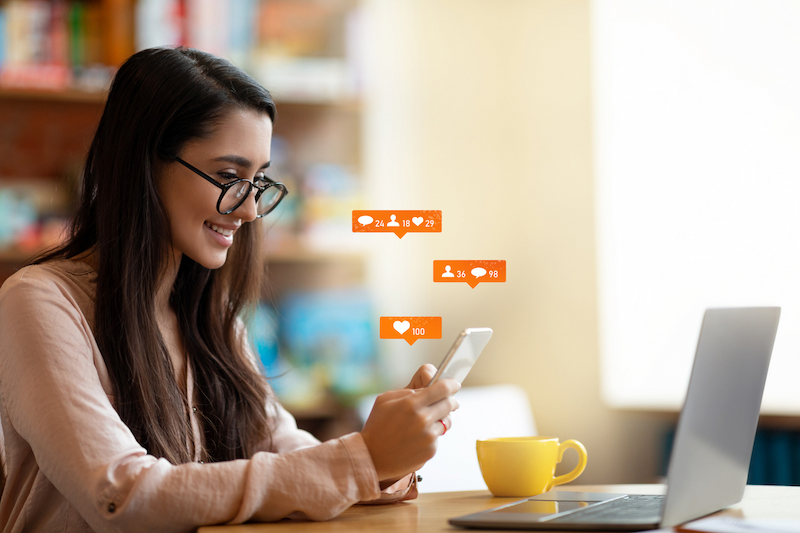 Targeting the Right People
Hashtags in your post captions are a great way to make sure your posts are getting seen by people interested in what your business has to offer. It's a good idea to brainstorm relevant hashtags as part of your strategy to make sure you're using tags that your target audience is searching for.
Searching for a hashtag on Instagram will show you how many posts have used it and allow you to decide whether it's right for your posts. It's also a bit of a balancing act, as choosing hashtags with millions of posts associated with them means your post is less likely to be seen. You want a healthy middle ground where you're using popular hashtags that aren't too competitive for your industry.
Post Regularly
Consistency is the key to gaining traction on Instagram and keeping your posts appearing in people's feeds. Post regularly, and the algorithm will reward you by placing your content at the top of your follower's feeds.
Remember, it's not just about the number of followers you have, but whether they see your posts and engage with your business. A consistent posting schedule will help your audience understand when they can expect new content from you and is more likely to be seen.
Developing an Instagram marketing strategy and posting regularly may seem daunting, especially if you're an SME. Building a following on Instagram takes time, so be patient and keep at it.
If you want to grow your business on Instagram but feel like you lack the time and knowledge to do it justice, SQ Digital can help. We can manage your social media campaign as part of your broader SME marketing strategy.
If you'd like to know more about how we can help, get in touch by filling out our online enquiry form today.