The Benefits of Social Media Marketing for Small Businesses
Over 3.8 billion people worldwide use social media – a figure expected to rise to 4.41 billion in 2025. With numbers like these, it's clear that social media is a powerful tool for businesses, and one you shouldn't dismiss, no matter whether you're a B2B or B2C.
As a digital marketing agency, we help our clients take full advantage of social media opportunities.
The Importance of Social Media Marketing for Small Businesses
Our Paid Social Media expert, Michelle Charnley, is a whiz at creating targeted and highly effective campaigns across several social platforms. She believes that,
"social media has a huge impact when it comes to promoting a business. It creates a positive link with customers and allows smaller businesses to compete with larger companies. It also ensures a unified brand message."
From a boost in website traffic to higher customer engagement levels and the potential for lead generation, social media channels like Facebook and Instagram are great for promoting your brand, products, and services. These platforms can help SMEs stay competitive, allowing you to connect with potential customers and keep an eye on what other businesses are doing.
LinkedIn is a professional platform that allows you to showcase your expertise, promote your brand and business, interact and engage with your peers, and so much more. Offering professional tips and quick guides on LinkedIn is a great way to attract more traffic to your website, as shown below.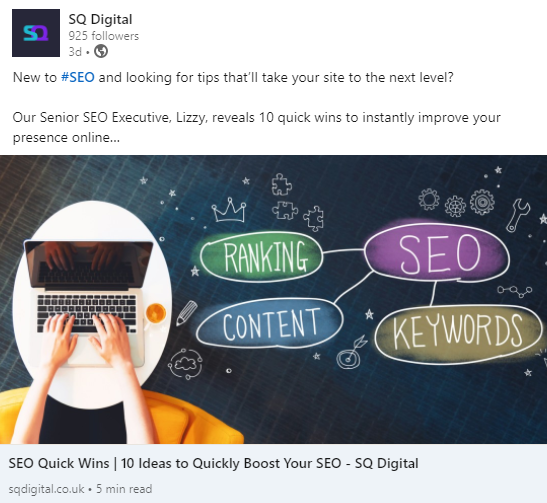 So, don't miss out on reaching your customers through social platforms where they're already interacting with brands.
How to Start your social media marketing
It's natural to feel overwhelmed at first, but if you're looking to set up your online presence, we can help you figure out where to start your social journey.
The first thing you should do is set goals. What are you hoping to accomplish by signing up to a social platform or by talking to your audience? Do you want to sell more products or increase your brand awareness? Your goals will be the driving force behind your social media presence, so be specific.
Also, you should learn as much as you can about your target audience. This research will help you to figure out where your customers are and the types of content they consume. Find out what your audience cares about to better connect with them.
Choosing the right platforms is essential. If your audience hangs out on Facebook, this channel should be your priority; with 2.7 billion monthly active users by October 2020, this platform can be a safe bet for many small business owners.
If you make and share videos, a YouTube presence is a must and, if your content is highly visual, Instagram could be for you. Focus only on the platforms your audience uses so that you can increase your chances of success and not spread yourself too thin. Check out our article "Should Age Demographics Impact Your Social Media Choice?" for more information on which platform is best suited for your business and where to find your audience.
Once you've made a decision, think about the content you'll be sharing. Quality is key here, not quantity.
What Are Paid and Organic Social Media?
As you start developing your social media presence, you'll come across two types of social media content; organic and paid.
Organic Social Media
Organic Social Media refers to free content like photos, videos and stories you can post and share on your social platforms. These posts will reach existing customers and can be seen by a fraction of your followers and their followers (organic reach) and people following the hashtags you chose.
With organic social media, you:
Have an easy way to connect with your customer base
Build brand awareness
Humanise your brand
Engage with your customers
Showcase your expertise with thought leadership content
All this is useful, no matter where your customers are on the buyers' journey. As an example, we shared an article on Facebook by simply posting about it on our timeline: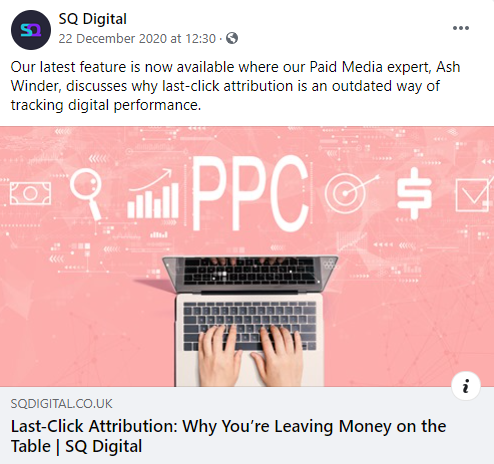 In 2018, a Global Web Index study found that 54% of social browsers use social media to research a brand's products, which further highlights that organic posts are a valid and crucial part of social media. When putting together your social strategy, consider organic content and how people will engage with it.
Paid Social Media
If you pay to have your content on a platform, you're using paid social. This term refers to ads and sponsored posts with a reach bigger than your immediate followers; this allows you to connect with people who wouldn't discover your brand otherwise. You can choose a particular demographic to target and set a goal for the post, be it sales conversions or traffic to your website.
There are many reasons why you should choose paid social. For example, Facebook's algorithm prefers posts from non-business accounts, which means small business owners may want to create Facebook ads to compete on the platform, like the example below from one of our clients.
The ad helps Video 2 DVD Transfers to showcase a discount, raise awareness to their brand and direct people to the website – because it's a sponsored ad, it means it reaches more people.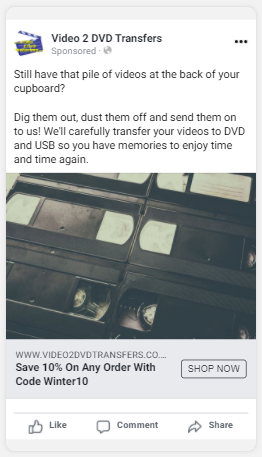 In short, paid social media can:
Help you raise awareness of your brand
Help you reach a lot of people you couldn't reach with just organic
Help you draw in followers
Promote your deals and products
Create new leads
Boost conversions when you put ads in front of the right people at the right time
How to Promote Your Business Using Organic and Paid Social Media Marketing
Both organic and paid social should be used in tandem for the best results, as they work well together to promote your small business. Check out some of our tips to help you get started on social media:
1. Make Use of Hashtags
Not every promotional post has to be paid. Hashtags – and even likes, retweets and follows – can be powerful for your marketing, and campaigns that use them can be a great way to bring awareness to a product or your brand.
You can see an example of how we helped Compare Cover do this with the hashtag #NationalWalkingMonth. This campaign was even shortlisted for two awards; Northern Marketing Awards for Best Professional & Financial Services Campaign, and UK Search Awards for Best Use of Social Media in a Search Campaign).
In essence, we launched a social media competition that targeted a specific demographic and which was supported by our content and design teams.
We created a Facebook and Twitter competition that encouraged people to like Compare Cover's Facebook post or retweet and follow @comparecover, with a chance to win a prize. The result included an increase in the number of potential customers engaging with the client's social media channels, a boost in followers, and an increase of 291.5% increase in website sessions.
2. Boost Organic Content
On Facebook, you can pick your best-performing posts (an indicator that people are interested in your content) and pay to have it displayed to more people. You don't even have to create an ad, as this is a low effort to see quick results.
For Simply Baby Lancaster, we boosted an existing post to help it get more reach – this means increasing its chances of people reacting, sharing and commenting on it. Boosting a post also helps people who don't follow you, but who may be interested in your services and page, to find you.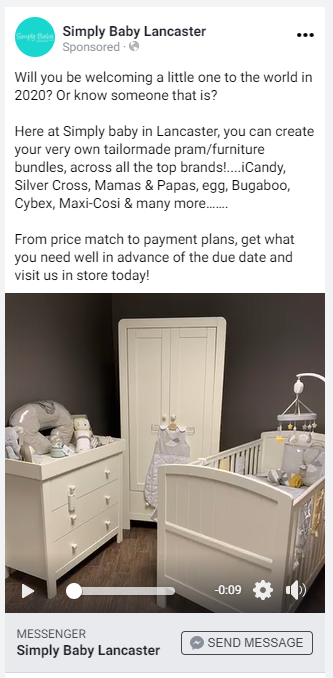 3. Add Media
Never publish a post without an image, a video or any other type of media. Think about it; when was the last time your attention was drawn to a post that was only text?
To get your audience's attention, you need to make your posts attractive, and this means adding visual content, as the carousel below, from The Bath House, shows. It allows us to display our client's products in a visually interesting way that immediately draws the eye.
Carousels are great for showing off multiple images and links in one ad and highlighting specific features in each card. It also creates a story that people can engage with by swiping to read more.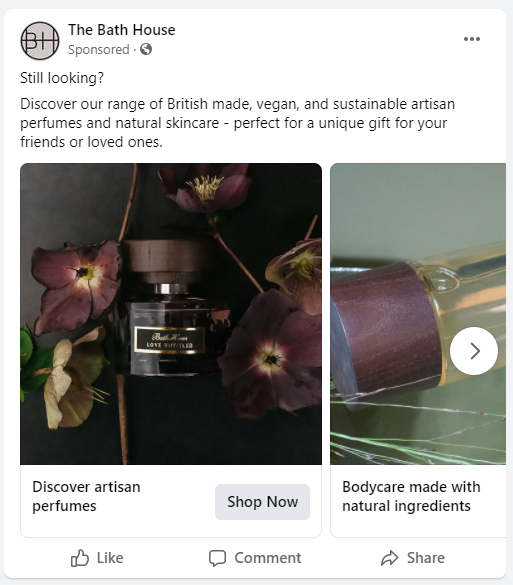 4. Test Your Posts
If you're paying to run an ad, make sure it's a good one. For that, you'll want to optimise it as much as possible and test it with A/B testing, which allows you to run different versions of the same ad to test your CTA (call to action), the layout of the ad, the audience you chose to target, the type of ad you went with, the copy you wrote on it, and more.
For instance, with Smart Storage, we created different versions of the same ad to see which one performed the best. We changed the images and the CTA, and Facebook divides the budget equally between the posts. This approach allowed us to measure the performance of each strategy.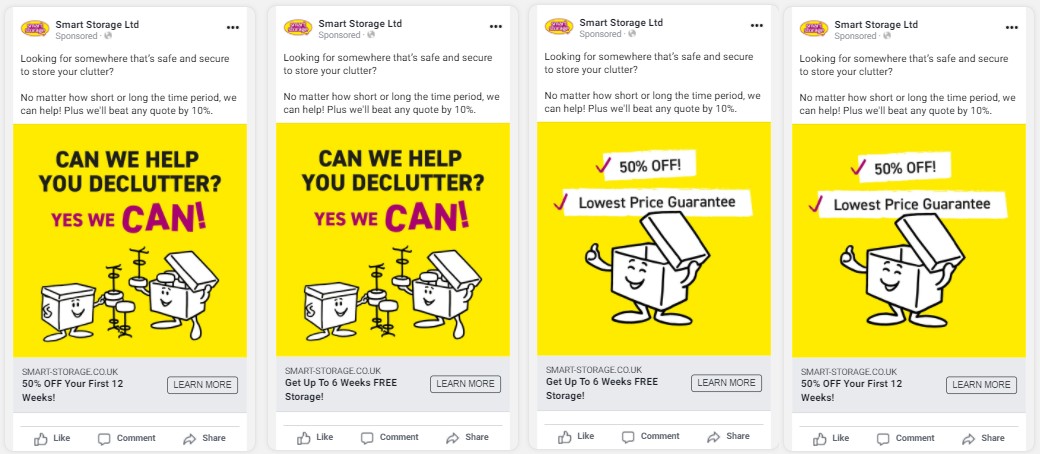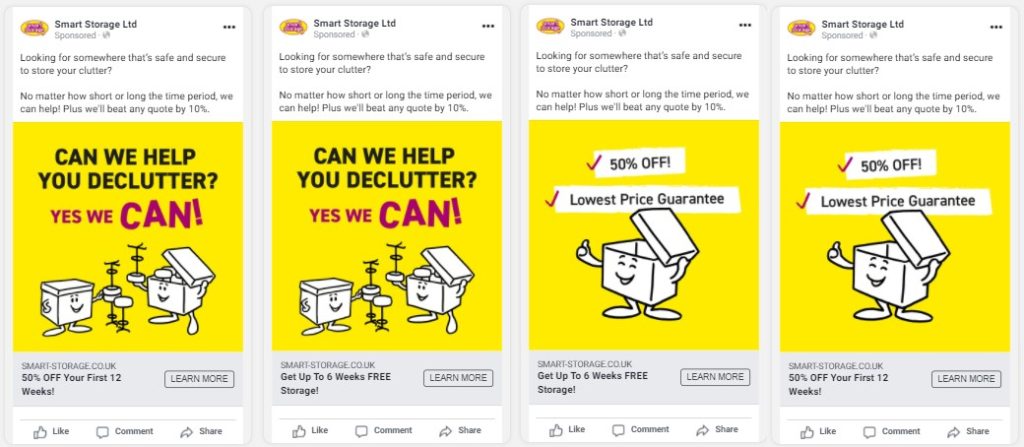 5. Target the Right Audience
Ads are effective when they're aimed at the right demographics and have the right message on them. You can choose an audience based on age, education, location, hobbies and interests, job title, and more, which means your ads will appeal to the people they're targeting.
Targeting a specific audience will make them more likely to engage with your post, click on your links, and buy your products and services. Take a look at Facebook's example of audience targeting: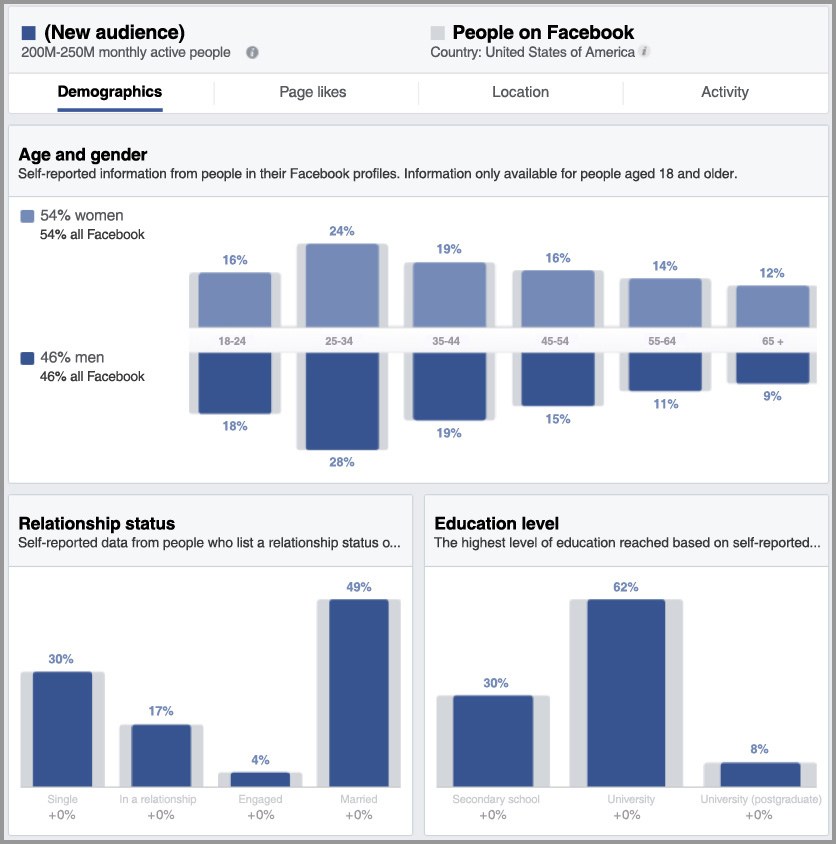 6. Use Analytics Tools
Gathering data about your posts is important because it helps you understand what's performing well and what isn't – and where you should invest your time, money and effort. Facebook Pixel is a good example of this since it provides information on your audience and whenever someone takes action, such as purchasing a product.
In Conclusion
As a business owner, you're always looking to improve your brand's visibility and get your business on people's radar. Social media is a fantastic way to do this, as it helps you engage with people, attract new customers, grow your client base, promote products and services and establish your business voice.
Social media can also help you see a boost in website traffic and sales leads. With more than 3.6 billion social media users worldwide, you don't want to miss out on the potential of this enormous market.
If you need help getting to grips with social media or you simply don't have the time to manage it effectively for your business, we can help. As a full-service digital marketing agency, we'll handle everything for you while you focus on growing your business.
As experts with 20 years of digital marketing experience, we can help small business owners promote their business online, so make an enquiry today.