Top 10 Must-Dos to Prepare Your E-Commerce Website for Black Friday/Cyber Monday
It's difficult to say when the first use of the term 'Black Friday' occurred. Some suggest it was used in the 1950s by workers when calling in sick the day after Thanksgiving. Others claim police used it as a slang term for the crowds causing traffic congestion around Christmas, and others say the first use was in November 1975 to describe the busiest shopping day of the year. The latter is the one that stuck around.
Black Friday is still one of the busiest days for consumers, both on and offline, as they take advantage of the crazy deals and discounts that retailers offer. However, it's grown tremendously since its beginnings and even has a sister day, Cyber Monday, which has the same idea but focuses solely on online retail offers.
As an e-commerce business owner, it's crucial to prepare your website ahead of Black Friday, which falls on the 25th of November this year, and Cyber Monday, on the 28th of November. As expert e-commerce web developers, we can help you get ahead of your competitors and make sure your website runs efficiently on these key dates in the e-commerce calendar.
Here are our top 10 tips for preparing your site for Black Friday and Cyber Monday.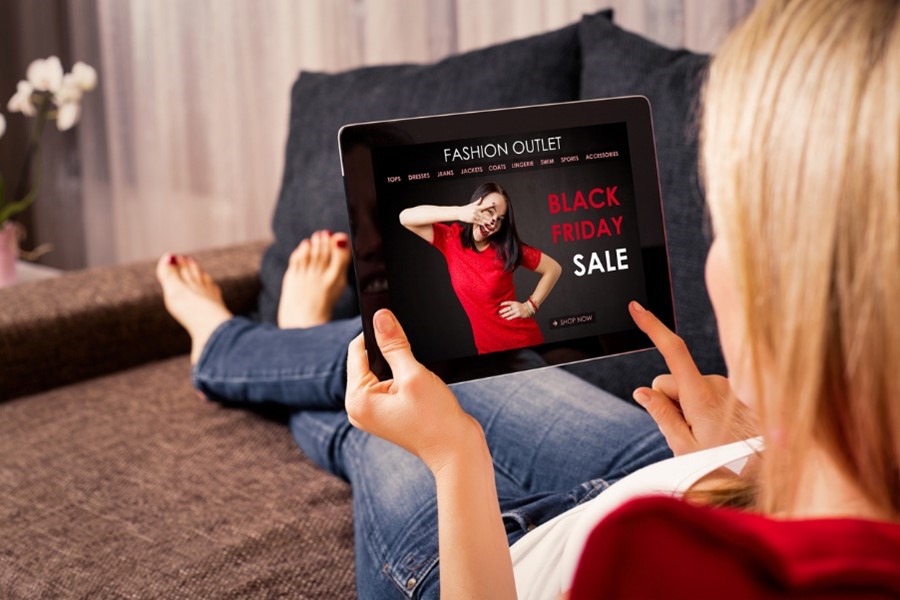 Start Planning Early

Many of us will understand the panic of leaving the buying of Christmas presents to mid-December and then realising toys have sold out, the sizes you need are out of stock, or prices have doubled since you last checked. However, more of us than ever before are preparing early for the holidays and taking advantage of super sales such as Black Friday, which is why as an e-commerce business owner, you must prepare early too.

Get ahead of the crowds and find out exactly who and what you should be targeting during the busiest shopping time of the year. Get your website ready, conduct keyword research, decide which products you want to spotlight, and organise your advertising campaign.

Test Your Site Speed

On Black Friday and Cyber Monday, campaigns build a sense of urgency with wording such as 'don't miss out', encouraging consumers to act fast and be the first to access the unmissable deals. Because of this, having a speedy site is essential for customer experience, especially when it comes to your checkout page. Test your site speed and core web vitals to ensure the best results.

Ensure Your Mobile View is Refined

More consumers each year use their smartphones to access Black Friday and Cyber Monday deals, so you must ensure your mobile-view website runs smoothly. Monitor your mobile website through Google Mobile-First Indexing to check everything is as it should be and make changes if necessary before it becomes too late and you miss out on crucial mobile traffic.

Keep Your Website's Visual and Written Content Updated

Showing you're excited about your Black Friday sales is one of the best ways to get potential customers excited. If you quietly put your prices down and don't create the buzz around your deals, you make it difficult for customers to know you're involved with Black Friday at all.

Check your website's visual and written content and ensure it all reads well and uses your brand's tone of voice. This includes adding appropriate banners and widgets to make your website stand out and display precisely what you're offering.

Finally, keep your reviews, product pages, and returns policy up to date, as these are vital pages customers will use during Black Friday and Cyber Monday.

Create Helpful Guides for Consumers

One of your main goals as an e-commerce business owner is to keep customers on your website for as long as possible, which you can do through internal linking. A buying guide is one of the best formats for internal links that work exceptionally well during Black Friday. These guides not only provide users with helpful information for their Christmas shopping but also give you a great link-building opportunity. You can highlight products, categories, and brands you wish to push in the form of price guides and product comparisons to help them find the best products.

Spotlight Featured Products

Spotlighting featured products is a great way to refine your website and highlight why users should stay. If the first thing users see when they access your site is a long list of products, all with various deals and discounts, it can become messy and far from user-friendly. Instead, organise your products and spotlight those to feature in category, brand, or product type to grab the user's attention.

Take Advantage of Your Social Platform

Ensure you communicate with your target audience by using your social platforms to speak directly with your customers. Track trends in your field, popular products and brands, and stay on top of industry news to discover what your target audience is looking for. Once you've done your research, you can begin promoting your Black Friday sales using this information.

As a social media agency, we work with you to build your brand through your social platforms and get your word out there through data-driven campaigns, creative copy and design, and enticing CTAs.

Use Email Marketing

An effective email marketing campaign is essential during Black Friday and Cyber Monday. Incorporate a strategy for chasing abandoned baskets and remind customers what they had put in there and which prices have dropped. Additionally, send out any discount codes ahead of Black Friday to ensure customers are ready to go when the day arrives; your customers will be scouring their emails to find the best offers in advance.

Keep Customer Service at the Forefront of Your Plans

As Black Friday and Cyber Monday are two of the busiest shopping days, more people than usual should be purchasing from your website. Because of this, you must ensure you're on it when it comes to customer service. Point customers in the right direction to contact details and ensure your customer service team is well prepared on the day. You should also implement helpful CTAs throughout your website to give customers the correct information and avoid confusion.

Increase Urgency

Black Friday and Cyber Monday are all about quick deals and unmissable offers, so creating a sense of urgency is essential. Implement countdown widgets to encourage customers to order before the prices are increased again, and use language such as "don't miss out", "hurry", and "offers end soon" in your copy to remind customers that the offers are only available for a limited time.
If you need assistance with your e-commerce marketing, please don't hesitate to get in touch with our team and find out how we can help.